WRITE A TEXT ON SOMEBODY WHO HAD OVERCOME A SERIOUS PROBLEM OR DISABILITY. HERE YOU HAVE SOME EXAMPLES. FOLLOW THESE INSTRUCTIONS.
1. INTRODUCE THE CHARACTER. NATIONALITY TIME, JOB (GENERAL.
2. WRITE ABOUT HIS/HER DISABILITY AND THE THINGS HE/SHE DID TO OVERCOME IT.
3. FINISH THE TEXT. WRITE A CONCLUSION.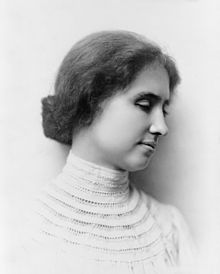 Helen Keller
(
(1880-1968)
became deaf blind before her second birthday. Despite this debilitating disability, she learned to read and write, and became the first deaf blind person to gain a bachelor degree. She campaigned on issues of social welfare, womens suffrage, disability rights and impressed many with her force of personality.
"Although the world is full of suffering, it is full also of the overcoming of it. My optimism, then, does not rest on the absence of evil, but on a glad belief in the preponderance of good and a willing effort always to cooperate with the good, that it may prevail." - Helen Keller